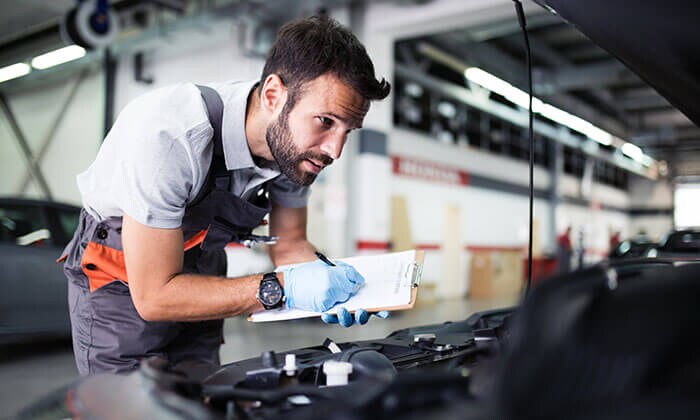 Add additional protection to your Kia purchase
We are proud to offer Kia Protect to all of our customers.
Taking delivery of your new, Certified Pre-Owned or used Kia is a great experience and with Kia Protect you can take further steps to protect your vehicle and loan commitments for years to come. All of the products are built and backed by the strength of Kia Canada so you can rest easier knowing you are well protected by a name you can trust.
Mechanical Breakdown Protection
As you know, Kias are amongst the most technologically advanced vehicles in the world. They are fun to drive and they are equipped with a very comprehensive warranty.
Mechanical Breakdown Protection is designed to extend your warranty protection. Once your original warranty or certified warranty term expires, Mechanical Breakdown Protection offers valuable coverage backed by the strength of Kia Canada. With genuine Kia parts and qualified technicians, you are guaranteed a timely and quality repair for covered breakdowns.
Mechanical Breakdown Protection also offers valuable additional benefits to reduce the inconvenience of an unfortunate breakdown. Coverage extends throughout Canada and the continental U.S. and you are only a toll-free call away for customer assistance.
Don't let unexpected repairs put a dent in your pocket. Purchase Mechanical Breakdown Protection today and have the coverage you need for life's uncertainty.
Wear Protection
Keeping a car looking as good as it runs can be a challenge. With common urban mishaps that happen all too often like a door ding in a parking lot or a rock chip in a windshield, your Kia may soon shine a little less brightly than it did the day you took it home.
Kia Protect Wear Protection is designed to keep your vehicle looking its best for years to come. While offering 3 levels of coverage for New, Certified Pre-owned, and Used vehicles, Wear Protection will ensure your vehicle looks great and maintains its maximum resale value.
With coverage throughout Canada and the continental United States, you never need to worry about filing a claim for vehicle repair when you are away from home. Ask Orillia Kia today about Kia Protect Wear Protection.
Loan Protection
Protecting your credit is important. Having a backup plan for life's uncertainty is something that savvy consumers take into account when they take out a loan.
Loan Protection is that backup plan which could help to protect your credit and retain your vehicle. Loan Protection is a life, critical illness and disability benefits plan that protects your financial commitments when you need it most.
Fully insured by Co-operators Life Insurance Company, one of Canada's most distinguished insurers, Loan Protection offers valuable coverage that will help keep your credit reputation and protect your loved ones in the event of your death, illness, or injury. Some of the advantages of Loan Protection include:
Coverage for people between the age of 18-70
Covers loans up to $100,000
*No medical examination required
Same rates for all insureds regardless of age, smoker, occupation
Competitive rates with other financial institutions
Cancellable at anytime
*Ages 18-65. Ask Plaza Kia to add Loan Protection to your finance/lease at the time of purchase of your New, Certified Pre-ownedTM, and used Kia vehicles.
Anti-Theft
Cars with no visible signs of theft deterrent are easy targets for thieves. With over 400 cars stolen per day in Canada, would-be thieves have plenty of vehicles to choose from. Kia Protect Anti-Theft is a vehicle theft-deterrent system designed to help deter potential thieves from stealing your Kia.
In the event your car goes missing, Kia Protect Anti-Theft will increase the odds of vehicle recovery and may provide a benefit to help compensate you for your loss. Kia Protect Anti-Theft combines a clearly visible warning label with permanent, pre-registered numbers embedded on body panels throughout your vehicle to make it a less attractive target for would-be thieves.
The pre-registered number adds your Kia to a national database to improve its traceability. The "Police Traceable" window decal will make it obvious to potential thieves that your Kia is registered and help convince them to leave your vehicle alone.
In the event your Kia is stolen and recovered, Kia Protect Anti-Theft provides a monetary benefit to cover the cost of incurred insurance deductibles. If your Kia is not recovered or recovered with damage, the program will cover your out of pocket expenses to help you get back behind the wheel of an equivalent Kia vehicle. Contact Plaza Kia for more details.
Questions about Kia Protect Extended Warranty?